Back to all posts
Posted on
October Principal Newsletter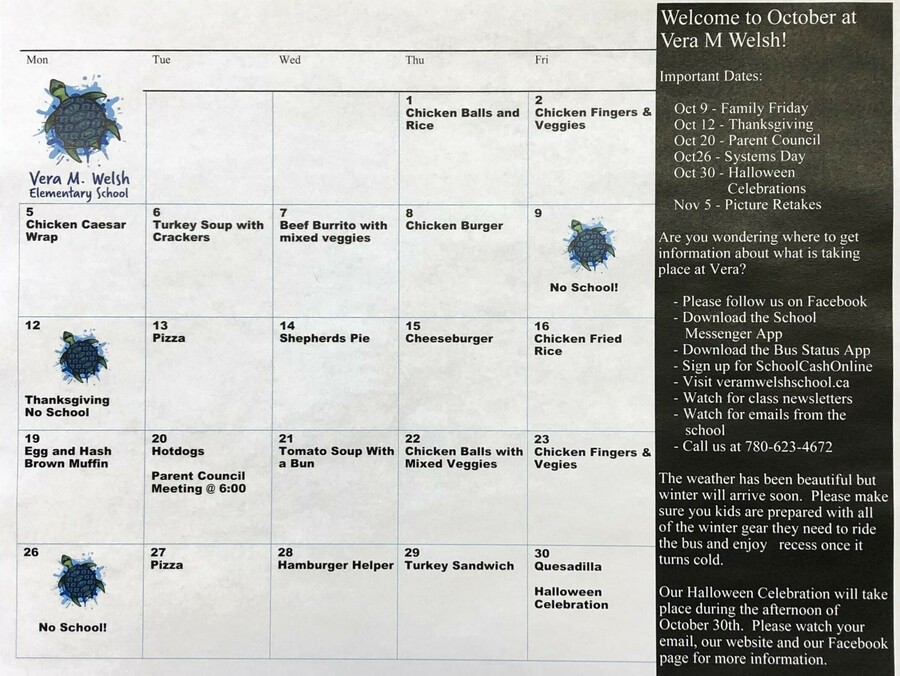 September flew by and it's a little hard to believe we are already turning the calendar to October.  I am really enjoying my new role as principal here at Vera M Welsh.  I know this is because we have fantastic students, wonderful parents and an amazing staff! I am grateful that I have had the privilege to join such a great school!
Things are going amazingly well here at Vera and I'd like to take the opportunity to share information with you to help you stay up to date.
Staff changes
As many of you are aware, Northern Lights Public Schools is providing an online schooling opportunity for students this year.  In order to provide staffing for the online school, Northern Lights shifted staff from schools with lower than expected enrollment.  Vera M Welsh was one of those schools, and we transferred two of our teachers, Mr. Brown and Mrs. Biollo, to the Learning Together Anywhere program.  To make this work, we needed to reduce the numbers of classes we have at the grade 1 and 2 levels.  Mrs. Delaire is now teaching Kindergarten in the morning and Physical Education in the afternoon and Mrs. Theroux is teaching Kindergarten in the morning and Music in the afternoon.
Parent Council
Our Parent Council held it's first meeting on September 24th.  We are pleased to inform you that Mandi Gosselin has accepted the role of Chair, Ashley Byers has accepted the role of Assistant Chair and Kristen Sewchuk has accepted the role of Secretary.
We had some very good discussion about the new school year, school lunches, school celebrations, school budgets and report cards.
Our next meeting is on October 20th at 6:00 PM and you are all invited.
Home – School Communication
Good communication between the school and home is very important to us and we are working to provide numerous ways for this good communication to take place.  As you are likely aware by this point, we will not be sending home daily agendas as the cleaning protocols we are required to use with them is unmanageable for us.  We will be shifting as much as we can to digital communication as a result. We encourage you to do the following to help us communicate with you well:
We sent out an October Calendar through School Messenger.  Your child will also receive a paper copy of this calendar from their teacher to bring home.

Thanksgiving weekend is a 4 day weekend (October 9th – 12th)
Students do not have school on October 26th

Watch for class newsletters from your child's teacher near the beginning of every month.
Please ensure we have an accurate email address that you check regularly.  If you are not receiving any email from us then it probably means we have incorrect information on our end.
Please sign up for the digital tools that Northern Lights has provided.  These include:
Please talk with your child's teacher abut Google Classroom and how it can be used as a communication tool.
Please follow us on Facebook (Vera M. Welsh Elementary School NLSD 69)
Please visit our website at veramwelshschool.ca
Please feel free to email us (firstname.lastname@nlsd.ab.ca) or call us at 780-623-4672
Halloween
Halloween will soon be upon us and there are a few details that we want you to be aware of.
Our K-3 Halloween celebration will take place on Friday October 30th. 
Students are invited to dress up in Halloween costumes.  Please make sure the students are not wearing masks that cover their entire face or have any weapons as part of their costume. Please do not have very scary costumes as we do have very young children here at Vera.
Parents will not be able to attend the Halloween activities as we need to limit the number of people in the school.  This includes coming to the school to help your child dress up in their costume so we will need you to help your children dress up at home. The only exception to this is those parents that are helping our Parent Council with any activities they may plan.
Unfortunately, we are not able to have students bring any snacks to share with their classmates due to COVID.  This includes store bought packaged snacks.  We will provide snacks for the students to enjoy.
APPLE Schools
The APPLE School theme for the month of October is healthy bones.
Thanks for your interest in reading this far.  Please remember that if you have specific questions that you can always email me at rob.wicker@nlsd.ab.ca or call me at 780-623-4672.