Back to all posts
Posted on
February at Vera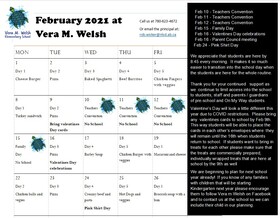 We appreciate that students are here by  8:45 every morning.  It makes it so much easier to transition into the school day when the students are here for the whole routine.
Thank you for your continued   support as  we  continue to limit access into the school  to students, staff and parents / guardians of pre-school and On My Way students. 
Valentine's Day will look a little different this year due to COVID restrictions.  Please bring any  valentines cards to school by Feb 9th. This way students will be able to place the cards in each other's envelopes where  they will remain until the 16th when students     return to school.  If students want to bring in treats for each other please make sure that the treats are commercially prepared,              individually wrapped treats that are here at school by the 9th as well
We are beginning to plan for next school  year already!  If you know of any families  with children that will be starting Kindergarten next year please encourage them to follow Vera m Welsh on Facebook and to contact us at the school so we can include their child in our planning.