Back to all posts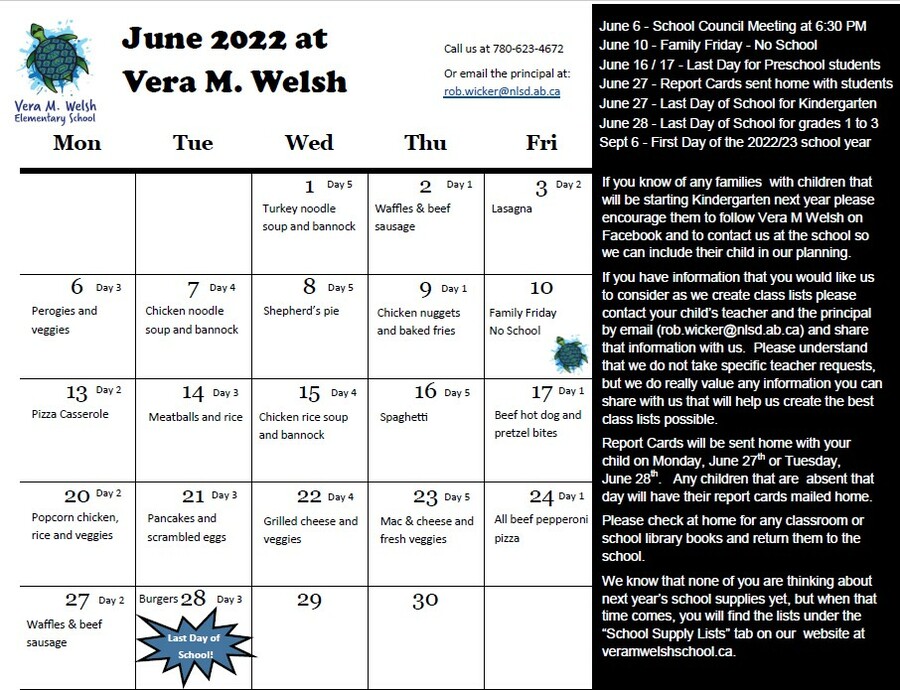 June 6 - School Council Meeting at 6:30 PM
 June 10 - Family Friday - No School
 June 16 / 17 - Last Day for Preschool students
 June 27 - Report Cards sent home with students
 June 27 - Last Day of School for Kindergarten
 June 28 - Last Day of School for grades 1 to 3
 Sept 6 - First Day of the 2022/23 school year
If you know of any families  with children that  will be starting Kindergarten next year please encourage them to follow Vera M Welsh on Facebook and to contact us at the school so we can include their child in our planning.
If you have information that you would like us to consider as we create class lists please contact your child's teacher and the principal by email (rob.wicker@nlsd.ab.ca) and share that information with us.  Please understand  that we do not take specific teacher requests, but we do really value any information you can share with us that will help us create the best class lists possible. 
Report Cards will be sent home with your child on Monday, June 27th or Tuesday, June 28th.  Any children that are absent that day will have their report cards mailed home.
Please check at home for any classroom or school library books and return them to the school.
We know that none of you are thinking about next year's school supplies yet, but when that time comes, you will find the lists under the "School Supply Lists" tab on our  website at veramwelshschool.ca.