Back to all posts
Posted on
Information for the beginning of the 2021/2022 School Year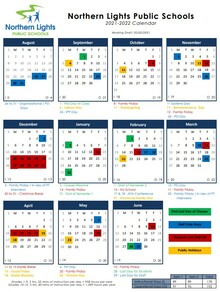 Aug. 31 - Meet The Teacher (1:00 - 3:00)
    Sept. 1 - First day of school for grades 1 to 3
    Sept. 3 - First day of school for half of Kindergarten
    Sept. 6 - Labour Day
    Sept. 7 - First Day of school for the 2nd half of Kindergarten students
    Sept. 8 - First Day of school for all Kindergarten students
    Sept. 24 - IPP Day (no school for students)
Thank you to each and everyone of you for a wonderful school year!  Covid certainly had an impact on us but I am very grateful for the way our Vera community responded to the challenges and made it a great year.
Next year's teachers:
* Kindergarten

     * Mrs. Biollo

     * Mrs. Delaire

     * Mrs. Lloyd

     * Ms. Sarda

* Grade 1

     * Mrs. Kruk

     * Mrs. Jasman

     * Mrs. Przybylski

     * Ms. Theroux

* Grade 2

     * Mrs. Pruden

     * Mrs. Funk

     * Mrs. Lyons

 

* Grade 3

     * Mrs. Cardinal

     * Mrs. Moghrabi

     * Mrs. Thody

 
Please join me in congratulating Lois Phillips on her retirement from teaching!  Lois has had a wonderful impact on hundreds of students over her career and will certainly be missed here at Vera!
Please follow us on Facebook as we will be updating our page a few times over the summer months.
Have a wonderful Summer Holiday and we look forward to seeing you all in September!   If you have any questions over the summer please feel free to email me at rob.wicker@nlsd.ab.ca.  It may take me a few days to respond but I will answer your questions as best I can.