Back to all posts
Posted on
January Calendar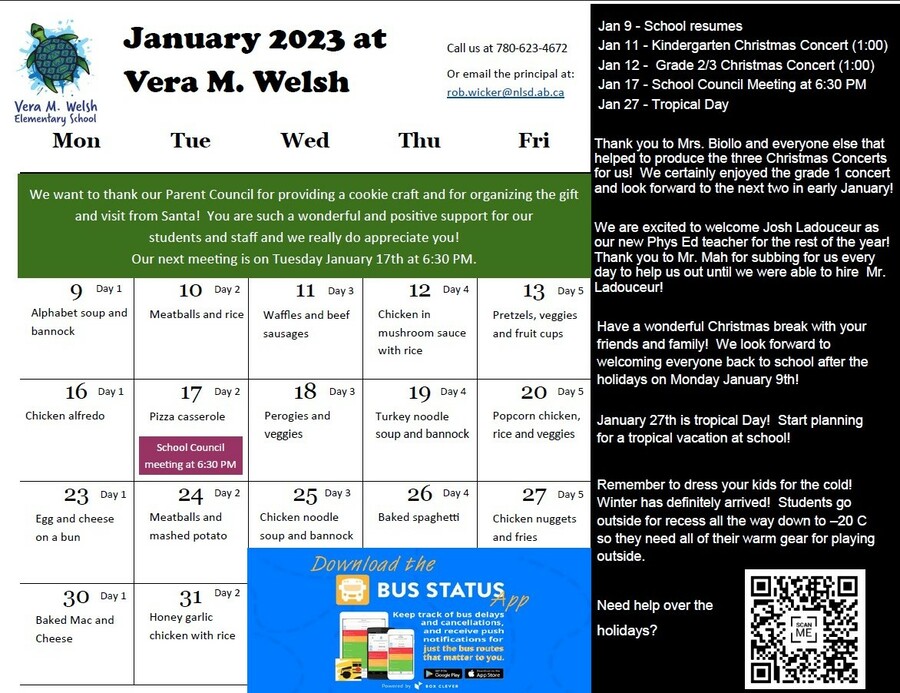 Jan 9 - School resumes
 Jan 11 - Kindergarten Christmas Concert (1:00)
 Jan 12 -  Grade 2/3 Christmas Concert (1:00)
 Jan 17 - School Council Meeting at 6:30 PM
 Jan 27 - Tropical Day
Thank you to Mrs. Biollo and everyone else that helped to produce the three Christmas Concerts for us!  We certainly enjoyed the grade 1 concert and look forward to the next two in early January!
We are excited to welcome Josh Ladouceur as our new Phys Ed teacher for the rest of the year!  Thank you to Mr. Mah for subbing for us every day to help us out until we were able to hire  Mr. Ladouceur!
Have a wonderful Christmas break with your friends and family!  We look forward to welcoming everyone back to school after the holidays on Monday January 9th! 
January 27th is tropical Day!  Start planning for a tropical vacation at school!
Remember to dress your kids for the cold! Winter has definitely arrived!  Students go outside for recess all the way down to –20 C so they need all of their warm gear for playing outside.