Back to all posts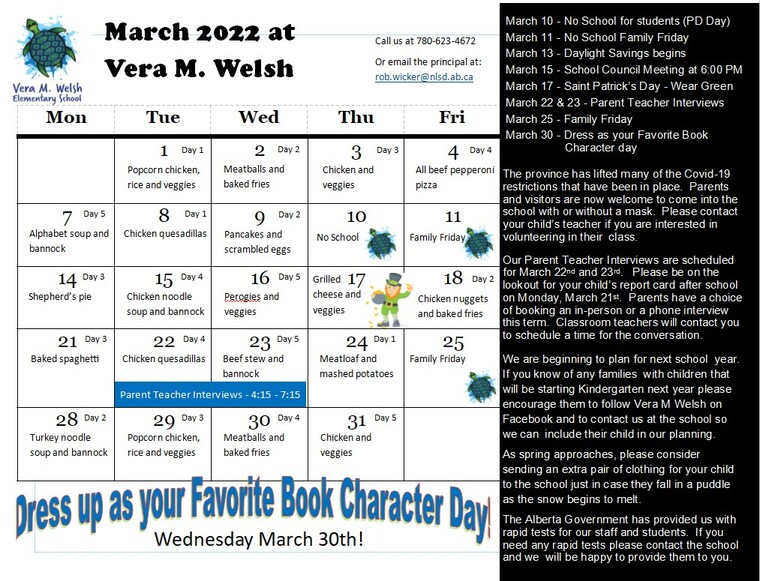 Important Dates:
 March 10 - No School for students (PD Day)
 March 11 - No School Family Friday
 March 13 - Daylight Savings begins
 March 15 - School Council Meeting at 6:00 PM
 March 17 - Saint Patrick's Day - Wear Green
 March 22 & 23 - Parent Teacher Interviews
 March 25 - Family Friday
 March 30 - Dress as your Favorite Book Character day
The province has lifted many of the Covid-19   restrictions that have been in place.  Parents and visitors are now welcome to come into the   school with or without a mask.  Please contact your child's teacher if you are interested in volunteering in their class.
Our Parent Teacher Interviews are scheduled   for March 22nd and 23rd.   Please be on the lookout for your child's report card after school  on Monday, March 21st.  Parents have a choice  of booking an  in-person or a phone interview this term.  Classroom teachers will contact you to schedule a time for the conversation.
We are beginning to plan for next school  year.    If you know of any families  with children that will be starting Kindergarten next year please encourage them to follow Vera M Welsh on Facebook and to contact us at the school so we can include their child in our planning.
As spring approaches, please consider sending an extra pair of clothing for your child to the school just in case they fall in a puddle as the snow begins to melt.
The Alberta Government has provided us with rapid tests for our staff and students.  If you need any rapid tests please contact the school and we will be happy to provide them to you.