Back to all posts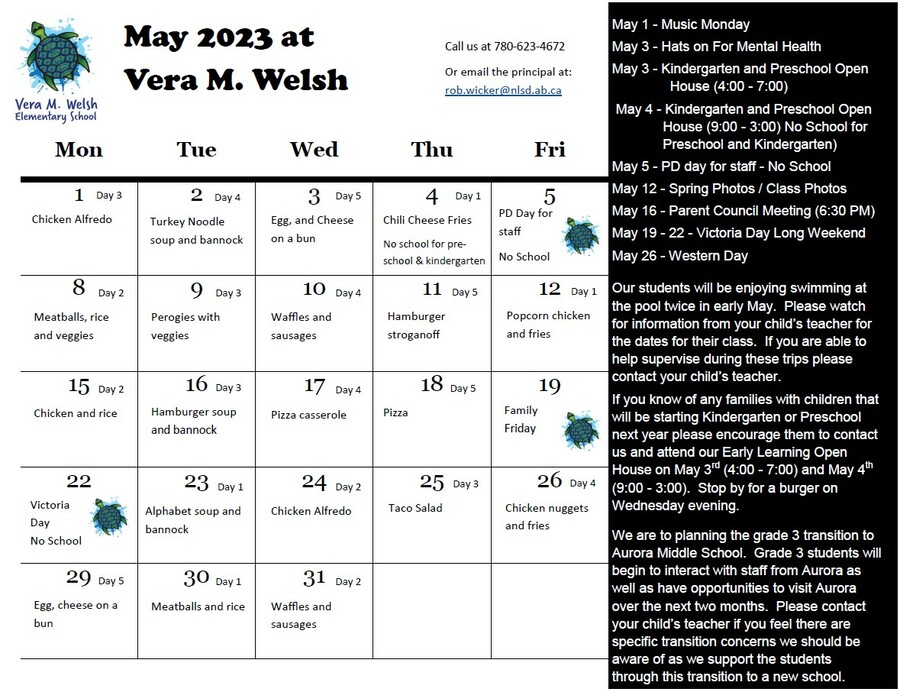 May 1 - Music Monday
May 3 - Hats on For Mental Health
May 3 - Kindergarten and Preschool Open  House (4:00 - 7:00)
May 4 - Kindergarten and Preschool Open House (9:00 - 3:00) No School for Preschool and Kindergarten)
May 5 - PD day for staff - No School
May 12 - Spring Photos / Class Photos
May 16 - Parent Council Meeting (6:30 PM)
May 19 - 22 - Victoria Day Long Weekend
May 26 - Western Day
Our students will be enjoying swimming at the pool twice in early May.  Please watch for information from your child's teacher for the dates for their class.  If you are able to help supervise during these trips please contact your child's teacher.
If you know of any families with children that will be starting Kindergarten or Preschool next year please encourage them to contact us and attend our Early Learning Open  House on May 3rd (4:00 - 7:00) and May 4th (9:00 - 3:00).  Stop by for a burger on Wednesday evening. 
We are to planning the grade 3 transition to Aurora Middle School.  Grade 3 students will begin to interact with staff from Aurora as well as have opportunities to visit Aurora over the next two months.  Please contact your child's teacher if you feel there are specific transition concerns we should be aware of as we support the students through this transition to a new school.