Back to all posts
Posted on
Mr. Johnson Retelling of the Gruffalo's Child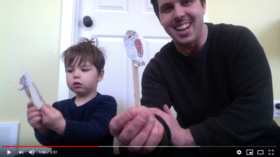 Hey everyone!
We sure miss you all and are hoping you are safe and healthy.  
Mr. Johnson shares his retelling of the Gruffalo's Child with a surprise guest- his son, Reggie!  Join him as he reminds us of all the ways to retell a story.  They retell using puppets.  How will you retell your favourite story today? 
Click below to watch his video.
 https://www.youtube.com/watch?v=RtOcC8zR0xw