Back to all posts
Posted on
November Calendar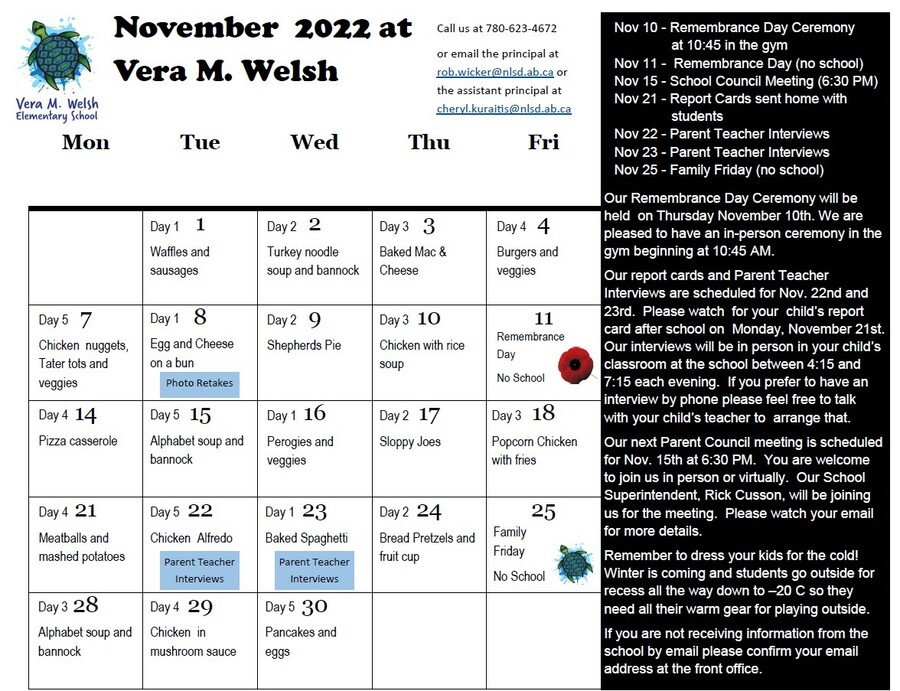 Nov 10 - Remembrance Day Ceremony at 10:45 in the gym
 Nov 11 -  Remembrance Day (no school)
 Nov 15 - School Council Meeting (6:30 PM)
 Nov 21 - Report Cards sent home with students
 Nov 22 - Parent Teacher Interviews
 Nov 23 - Parent Teacher Interviews
 Nov 25 - Family Friday (no school)
Our Remembrance Day Ceremony will be held  on Thursday November 10th. We are pleased to have an in-person ceremony in the gym beginning at 10:45 AM.
Our report cards and Parent Teacher Interviews are scheduled for Nov. 22nd and 23rd.  Please watch  for your  child's report card after school on  Monday, November 21st.  Our interviews will be in person in your child's classroom at the school between 4:15 and 7:15 each evening.  If you prefer to have an interview by phone please feel free to talk  with your child's teacher to  arrange that.
Our next Parent Council meeting is scheduled for Nov. 15th at 6:30 PM.  You are welcome  to join us in person or virtually.  Our School Superintendent, Rick Cusson, will be joining us for the meeting.  Please watch your email for more details.
Remember to dress your kids for the cold!  Winter is coming and students go outside for recess all the way down to –20 C so they need all their warm gear for playing outside.
If you are not receiving information from the school by email please confirm your email  address at the front office.