Back to all posts
Posted on
October Calendar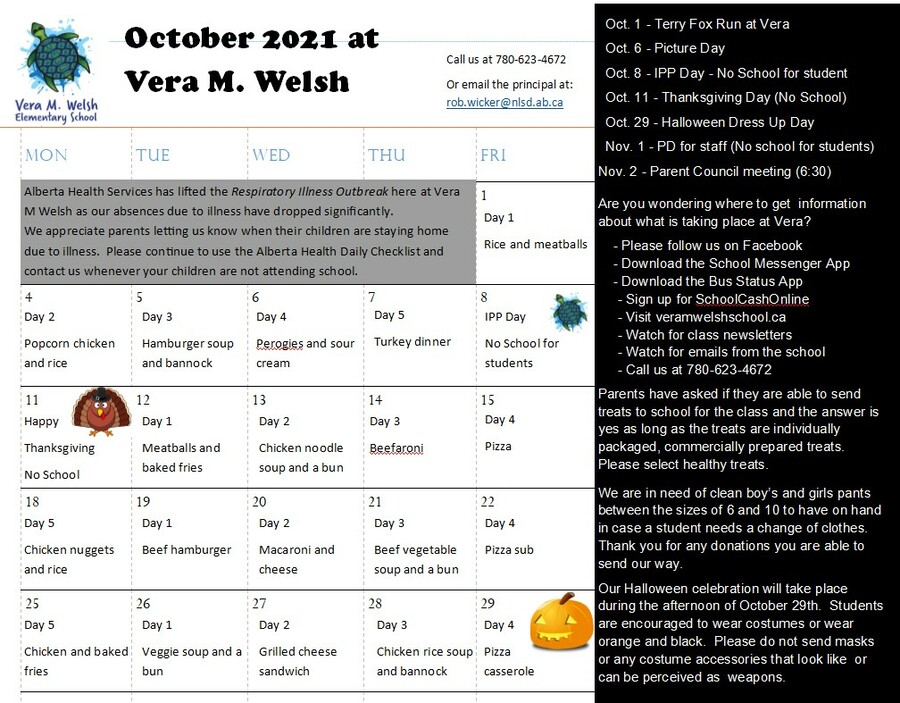 Oct. 1 - Terry Fox Run at Vera
  Oct. 6 - Picture Day
  Oct. 8 - IPP Day - No School for student
  Oct. 11 - Thanksgiving Day (No School)
  Oct. 29 - Halloween Dress Up Day
  Nov. 1 - PD for staff (No school for students)
  Nov. 2 - Parent Council meeting (6:30)
Are you wondering where to get  information about what is taking place at Vera?
    - Please follow us on Facebook
    - Download the School Messenger App
    - Download the Bus Status App
    - Sign up for SchoolCashOnline
    - Visit veramwelshschool.ca
    - Watch for class newsletters
    - Watch for emails from the school
    - Call us at 780-623-4672
Parents have asked if they are able to send  treats to school for the class and the answer is yes as long as the treats are individually packaged, commercially prepared treats. Please select healthy treats.
We are in need of clean boy's and girls pants between the sizes of 6 and 10 to have on hand in case a student needs a change of clothes.  Thank you for any donations you are able to send our way.
Our Halloween celebration will take place during the afternoon of October 29th.  Students are encouraged to wear costumes or wear orange and black.  Please do not send masks or any costume accessories that look like  or can be perceived as  weapons.