Back to all posts
Posted on
October Calendar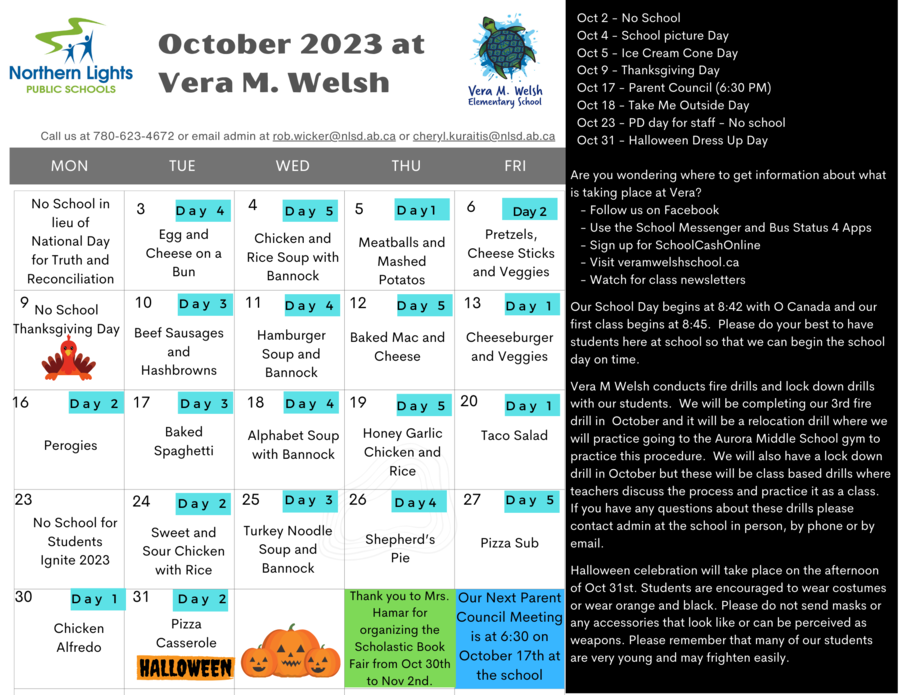 Oct 2 - No School
Oct 4 - School picture Day
Oct 5 - Ice Cream Cone Day
Oct 9 - Thanksgiving Day
Oct 17 - Parent Council (6:30 PM)
Oct 18 - Take Me Outside Day
Oct 23 - PD day for staff - No school
Oct 31 - Halloween Dress Up Day
Are you wondering where to get information about what is taking place at Vera?
- Follow us on Facebook
- Use the School Messenger and Bus Status 4 Apps
- Sign up for SchoolCashOnline
- Visit veramwelshschool.ca
- Watch for class newsletters
Our School Day begins at 8:42 with O Canada and our first class begins at 8:45. Please do your best to have students here at school so that we can begin the school day on time.
Vera M Welsh conducts fire drills and lock down drills with our students. We will be completing our 3rd fire drill in October and it will be a relocation drill where we will practice going to the Aurora Middle School gym to practice this procedure. We will also have a lock down drill in October but these will be class based drills where teachers discuss the process and practice it as a class. If you have any questions about these drills please contact admin at the school in person, by phone or by email.
Halloween celebration will take place on the afternoon of Oct 31st. Students are encouraged to wear costumes or wear orange and black. Please do not send masks or any accessories that look like or can be perceived as weapons. Please remember that many of our students are very young and may frighten easily.