Back to all posts
Posted on
November Principal Message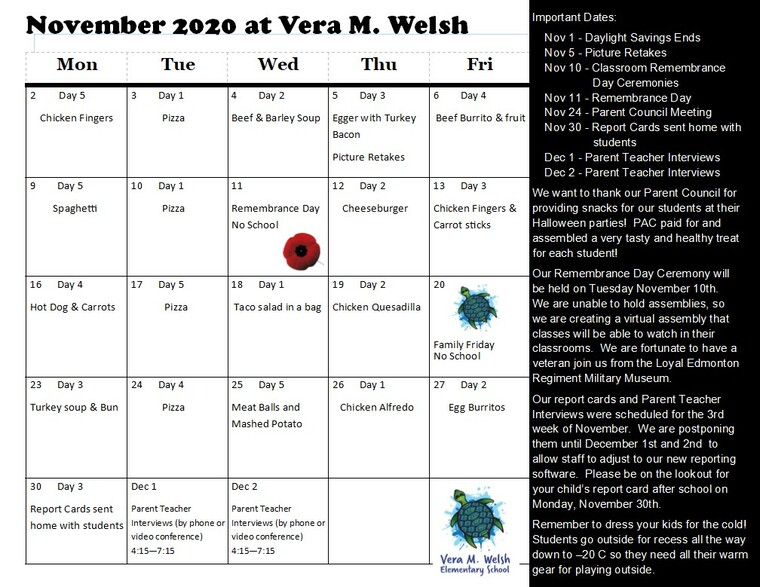 Happy Halloween Everyone!
It was great fun celebrating Halloween with the students here at Vera today! Their excitement was contagious! We really appreciate the Halloween snack that our School Council created and donated for the kids to enjoy.
Staff changes
As many of you are aware, we had to reduce our support staff due to lower than expected numbers of students this year.  We were sad to say goodbye to Mrs. Cote, Mrs. Puetz and Mrs. Eludin.
 Parent Council
Our Parent Council met on October 20thand reviewed staffing changes, discussed our School Plan and made plans for Halloween and Christmas celebrations.
Our next meeting is on November 24th at 6:00 PM and you are all invited.
Home – School Communication
Good communication between the school and home is very important to us and we are working to provide numerous ways for this good communication to take place. 
We sent out a November Calendar through School Messenger.  Your child will also receive a paper copy of this calendar from their teacher to bring home.
There is no school on Remembrance Day. We will classroom based ceremonies on November 10th.
Students do not have school on November 20th
Watch for class newsletters from your child's teacher near the beginning of every month.
Please ensure we have an accurate email address that you check regularly.  If you are not receiving any email from us then it probably means we have incorrect information on our end.
Please sign up for the digital tools that Northern Lights has provided.  These include:
Please talk with your child's teacher abut Google Classroom and how it can be used as a communication tool.
Please follow us on Facebook (Vera M. Welsh Elementary School NLSD 69)
Please visit our website at ca
Please feel free to email us (firstname.lastname@nlsd.ab.ca) or call us at 780-623-4672
Report Cards
Teachers will prepare report cards for all of our students in November. 
The report cards will be sent home with students on Monday, November 30th. 
Parent Teacher Interviews will take place on Tuesday December 1st and Wednesday Dec. 2nd.
Parent Teacher Interviews will take place by phone or video conference this year due to Covid.
Your child's teacher will be in touch with you to schedule your interview time.
Thanks for your interest in reading this far.  Please remember that if you have specific questions that you can always email me at rob.wicker@nlsd.ab.ca or call me at 780-623-4672.