Back to all posts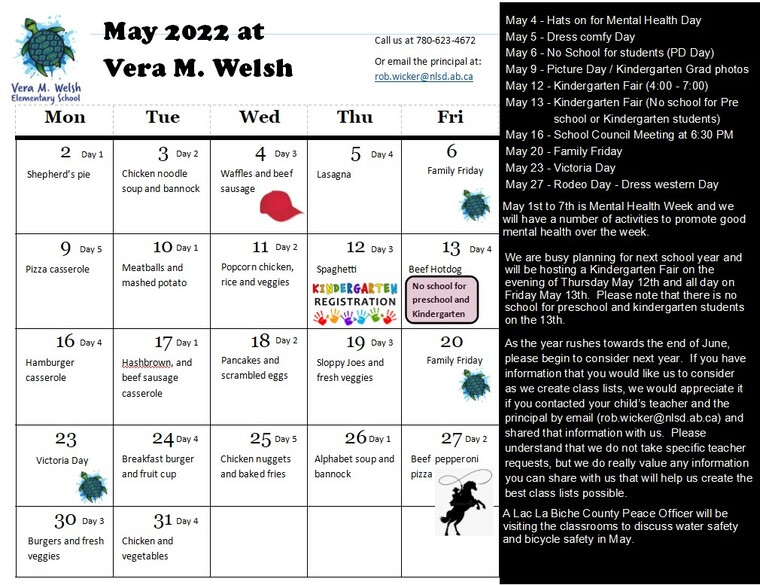 May 4 - Hats on for Mental Health Day
 May 5 - Dress comfy Day
 May 6 - No School for students (PD Day)
 May 9 - Picture Day / Kindergarten Grad photos
 May 12 - Kindergarten Fair (4:00 - 7:00)
 May 13 - Kindergarten Fair (No school for Preschool or Kindergarten students)
 May 16 - School Council Meeting at 6:30 PM
 May 20 - Family Friday
 May 23 - Victoria Day
 May 27 - Rodeo Day - Dress western Day
May 1st to 7th is Mental Health Week and we   will have a number of activities to promote good  mental health over the week.
We are busy planning for next school year and will be hosting a Kindergarten Fair on the     evening of Thursday May 12th and all day on  Friday May 13th.  Please note that there is no school for preschool and kindergarten students on the 13th.
As the year rushes towards the end of June, please begin to consider next year.  If you have information that you would like us to consider    as we create class lists, we would appreciate it if you contacted your child's teacher and the  principal by email (rob.wicker@nlsd.ab.ca) and shared that information with us.  Please understand that we do not take specific teacher requests, but we do really value any information you can share with us that will help us create the best class lists possible. 
A Lac La Biche County Peace Officer will be    visiting the classrooms to discuss water safety and bicycle safety in May.